Menu de café
O que realmente se esconde por trás dos diferentes nomes no menu do café?
Publicado em Setembro 13, 2021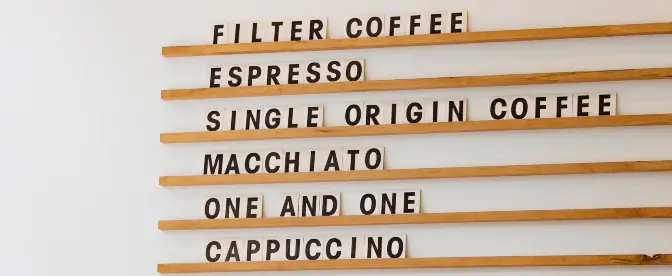 Espresso
Feito em uma máquina de café espresso, sob alta pressão. Uma dose conta com 25 a 35 ml, e é coberta com uma espuma sólida chamada crema.
Ristretto
Um espresso forte e concentrado numa dose menor.
Lungo
Um espresso mais suave, extraído numa dose maior, com quase o dobro da quantidade de água.
Café Americano
É um café espresso diluído em água quente. A receita leva 2/3 de água quente adicionada a um espresso simples ou duplo.
Cappuccino
Uma dose de café espresso adicionada de espuma do leite e leite vaporizado, usando a proporção de 1/3 cada.
Latte (Café com leite)
Um espresso duplo servido em um copo alto, com leite quente e um pouco de espuma do leite por cima.
Café gelado
Este café é deixado em infusão por um longo tempo, geralmente entre 12 e 18 horas. Servido frequentemente com gelo e, às vezes, também com leite. Ele é utilizado como base em muitas bebidas de café.
Sobre o Autor
Chandra Melo
Marketing as job, barista as passion. An authentic coffee lover, looking for the next fantastic cup of coffee that I will fall in love with. Coffee, for me, is more than a beverage. It's about community and connection - how can all the world consume the same fruit? And differently? How can we have so many different tastes? I also don't know. And because of this, I feel in love each day more for this world. Happy to share and make a change in the coffee community.
Add comment
Mais sobre o laboratório de café
Inscreva-se e contribua agora
Debates mais recentes no fórum