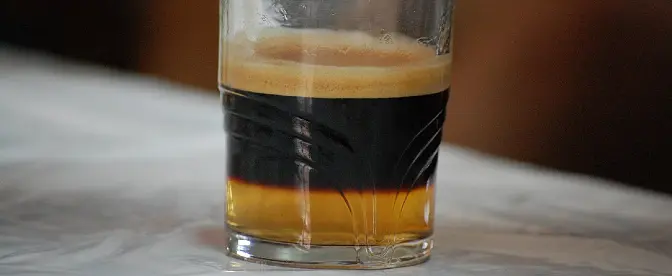 Carajillo Valenciano Flambado
Perfeito para depois do almoço, este é um coquetel quente, tradicional de Valência, Espanha. Ele pode ser encontrado pelos nomes Cremat ou Cremaet, mas Carajillo é mais comum. A tradição permite o uso de licores, desde que seja um destilado
Publicado em November 2, 2021
Instruções
1
Coloque num copo a casca de limão, alguns grãos de café, açúcar e canela.
2
Aqueça o rum até ferver e despeje no copo. Mexa delicadamente com uma colher.
3
Acenda o rum com um fósforo e deixe queimar por alguns segundos. Enquanto isso, mexa cuidadosamente com a colher para queimar o álcool o máximo possível.
4
Depois de alguns segundos, o fogo se apagará. Em seguida, despeje o espresso (ou café forte que preparou), colocando uma colher no caminho, para que o café não se misture com o rum.
5
Deixe o Carajillo Valenciano descansar por 10 segundos ou até ver as três camadas de creme, expresso e licor.
6
Desfrute do seu autêntico Carajillo Valenciano! Salud!
Sobre o Autor
Tassia B. Sita
I'm Tassia, a 37 y/o Brazilian content writer and communicator, always ready to deliver great information about coffee, sustainability, and science in both English and Portuguese - but not before I grab my cup of coffee!
Ler o artigo original
Idioma original : English
Especialistas em café
@Era of We