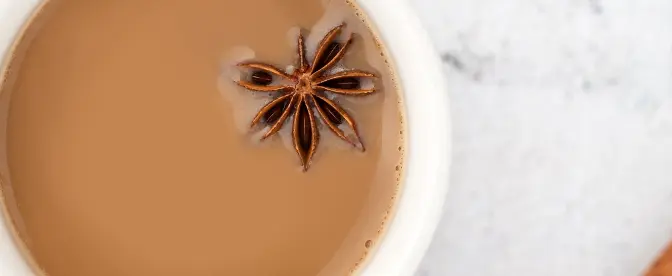 Chaider "Sujo"
Uma versão para o outono de um popular clássico do café, que traz um pouco de cidra com especiarias para uma doce surpresa. Apenas combine partes iguais de chai concentrado e cidra de maçã, e aqueça para deixar perfeito.
Publicado em Outubro 21, 2021
Instruções
1
Despeje o chai concentrado em uma leiteira de 300 ml, junto com os 60 ml de leite da sua escolha.
2
Adicione a mesma quantidade de cidra de maçã na mesma leiteira.
3
Aqueça os dois ingredientes no vaporizador até que a leiteira esteja quente demais para tocar. Deixe de lado.
4
Usando a sua máquina de café espresso, prepare uma dose dupla de espresso com quaisquer parâmetros que você decida usar para o seu café nesse dia.
5
Adicione a sua dose de café espresso ao recipiente que irá usar. Despeje a sua mistura de cidra-chai sobre a dose para incorporar todos os ingredientes.
6
Enfeite a xícara com especiarias do outono, como maçã desidratada, anis estrelado, ou um pau de canela.
Sobre o Autor
Chandra Melo
Marketing as job, barista as passion. An authentic coffee lover, looking for the next fantastic cup of coffee that I will fall in love with. Coffee, for me, is more than a beverage. It's about community and connection - how can all the world consume the same fruit? And differently? How can we have so many different tastes? I also don't know. And because of this, I feel in love each day more for this world. Happy to share and make a change in the coffee community.
Ler o artigo original
Idioma original : English
Especialistas em café
@Era of We