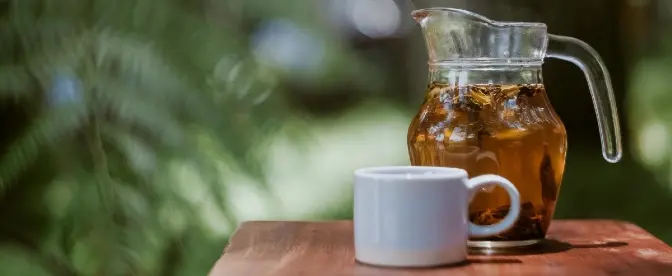 Chá Cold Brew
Este método é a melhor maneira de obter um chá gelado suave e naturalmente doce que, ao contrário do chá gelado normal, tem quase zero amargor. Além disso, o processo de extração lento adiciona notas aromáticas incríveis. A proporção entre
Publicado em November 2, 2021
Kitchen scale. Glass jar with lid, strainer or infuser.
Kitchen Scale. Glass Jar With Lid, Strainer Or Infuser.
Instruções
1
Coloque 6 gramas de folhas soltas de chá em uma jarra ou garrafa de vidro. Eu peguei um frasco de vidro limpo com tampa para este fim.
2
Despeje 470 ml de água fria na jarra e coloque a tampa. Você não lacrar a jarra ou garrafa, apenas feche a tampa suavemente.
3
Deixe a bebida gelada em infusão na geladeira por 12 horas, ou durante a noite. Menos que 12 horas não são o suficiente porque o processo de extração é bastante lento. No entanto, descobri que mais de 18 horas podem adicionar um pouco de amargor e sabores estranhos à bebida.
4
Coe as folhas soltas de chá e sirva. Você vai desfrutar da xícara de chá gelado mais suave de todos os tempos!
Sobre o Autor
Tassia B. Sita
I'm Tassia, a 37 y/o Brazilian content writer and communicator, always ready to deliver great information about coffee, sustainability, and science in both English and Portuguese - but not before I grab my cup of coffee!
Ler o artigo original
Idioma original : English
Especialistas em café
@Era of We