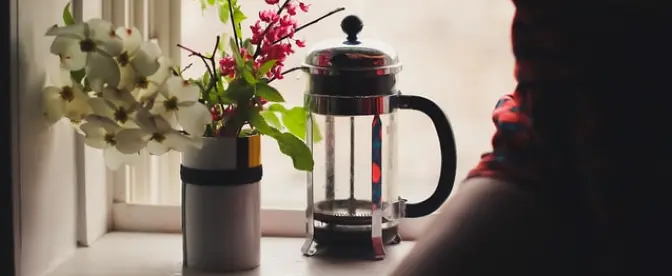 Receita: Café Na Prensa Francessa (3 Xícaras)
A Prensa Francesa é popular por vários motivos, alguns deles são a facilidade ao usar e ao limpar, e também por produzir uma xícara de café rica e encorpada, o que se torna muito útil na França, onde o café com leite é um favorito. Use esta
Publicado em November 3, 2021
Instruções
1
Primeiro, coloque o pó de café na Prensa Francesa. Certifique-se de que os grãos de café foram moídos numa moagem grossa, do tamanho de grãos de sal marinho.
2
Em seguida, aqueça 3 xícaras de água a 94°C. Se você não tiver como medir essa temperatura, apenas ferva a água, desligue o fogo e deixe a água descansar por 30 segundos antes de usá-la.
3
Agora é hora do blooming do café. Este processo é o passo inicial, quando você umedece o pó de café antes que ele entre completamente em infusão, para liberar CO2 e obter o máximo de sabor possível.
4
Para expandir o seu café , configure um cronômetro para 4 minutos, e despeje água quente até umedecer a camada de café uniformemente. Em seguida, espere até que 30 segundos tenham se passado. Com 3'30" restantes no cronômetro, encha a Prensa com o resto da água quente, e coloque a tampa sem forçar.
5
Assim que o tempo terminar, empurre o êmbolo para baixo. Sirva o café imediatamente para o melhor sabor possível. Adicione açúcar ou creme, ou qualquer outro adoçante ou leite de sua escolha, a seu gosto.
Sobre o Autor
Chandra Melo
Marketing as job, barista as passion. An authentic coffee lover, looking for the next fantastic cup of coffee that I will fall in love with. Coffee, for me, is more than a beverage. It's about community and connection - how can all the world consume the same fruit? And differently? How can we have so many different tastes? I also don't know. And because of this, I feel in love each day more for this world. Happy to share and make a change in the coffee community.
Ler o artigo original
Idioma original : English
Especialistas em café
@Era of We