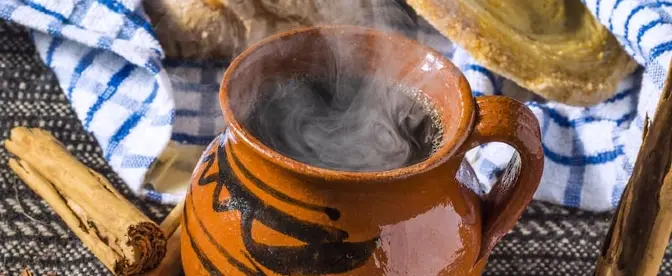 Café De Olla Mexicano
O Café de Olla nos faz lembrar das "abuelitas", as avós, que passavam manhãs e noites fervendo café, enchendo a casa de um cheiro incrível de "piloncillo" - um doce feito com cana-de-açúcar - , laranja e café. É uma bebida o
Publicado em November 2, 2021
1 medium pot, mesh or cloth strainer
1 Medium Pot, Mesh Or Cloth Strainer
Instruções
1
Coloque a água, o piloncillo (ou açúcar mascavo), a canela em pau e as cascas de laranja em uma panela (SEM o café).
2
Aqueça até ferver a água, e depois mantenha em fogo baixo por 7 minutos ou até que o açúcar se dissolva.
3
Coloque o café moído na panela, cubra com uma tampa e desligue o fogo. Deixe descansar por cerca de 5 minutos.
4
Após este tempo, coe a bebida em um filtro de pano, passando para outro recipiente.
5
Sirva na sua xícara favorita, acrescentando um pouco de casca de laranja, e consuma junto com "conchas", doces ou "tamale"! ¡ Buen provecho!
Sobre o Autor
Tassia B. Sita
I'm Tassia, a 37 y/o Brazilian content writer and communicator, always ready to deliver great information about coffee, sustainability, and science in both English and Portuguese - but not before I grab my cup of coffee!
Ler o artigo original
Idioma original : English
Especialistas em café
@Era of We