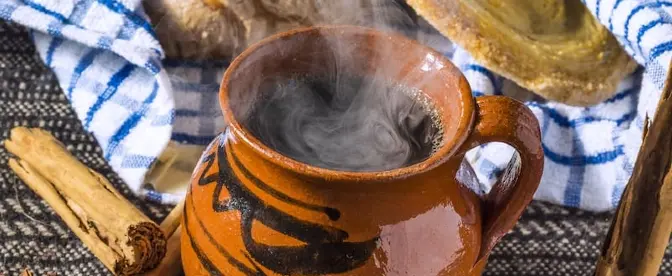 Café De Olla
Café de Olla is a drink that many of us will endearingly be reminded of our abuelitas, or our grandmothers. They spend mornings and evenings boiling coffee in a pot, filling the house with comforting smells of piloncillo, naranjas, and porsupuesto, café. Café de Olla, which translates to "coffee from pot," is a traditional drink that comes from Mexico, whose origins stem from soldiers who needed simple coffee during the war. Combining coffee with water into a clay pot, the older women prepared the beverage with spices that would keep them awake and alert during the Mexican Revolution in 1910. Today, it is a beverage we know and love for its simplicity, as well as its presentation in a beautifully decorated clay ceramic mug. It is an incredibly easy beverage to prepare at home with whatever coffee you have lying around.
Published August 26, 2021
0
1 Medium Pot, Mesh Or Cloth Strainer
1 Medium Pot, Mesh Or Cloth Strainer
Katrina Yentch
Portland, USA
0
Directions
1
Place the water, piloncillo, cinnamon sticks, and orange peel in a pot (WITHOUT the coffee).
2
Heat the water to boiling, then lower to a simmer for 7 minutes, or until the sugar dissolves.
3
Add ground coffee to the pot, cover with a lid, and turn the heat off. Let this sit for about 5 minutes.
4
After this time, strain the pot with a mesh filter into another bowl.
5
Serve in your favorite mug, add some orange peel, and consume alongside conchas, pastries, or a tamale. ¡Buen provecho!
About the Author
Katrina Yentch
My name is Katrina and I'm the content lead at Era of We. I'm also the online editor at Barista Magazine and a freelance writer based in Portland, Oregon covering the HoReCa/F&B industries. I'm available for coffee questions, writing work, and coffee consulting!
0