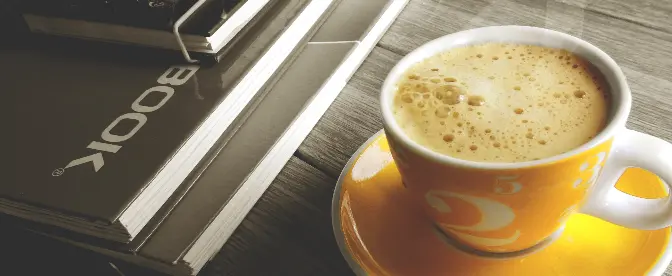 Bulletproof Coffee Recipe With Coconut Oil
Bulletproof coffee is a popular type of beverage that is inspired by a high-calorie traditional coffee drink in Tibet, where monks stay energized all morning by adding yak butter to their coffee. In 2009, bulletproof coffee first hit the US
Published November 24, 2021
To make it in the traditional way, you will need a regular cup of coffee, lots of butter, and some of your favorite sweetener. It's a great drink considering that it only uses three ingredients; however, dairy isn't an option for some people, whether you are intolerant to lactose, vegan, or simply trying to cut down on your dairy consumption for any reason. The good news is that you can use coconut oil as a substitution for butter when making this drink. Not only will it taste just as good, but it's also dairy-free, vegan-friendly, and healthier.
Coconut oil is an option with several health benefits. It contains lots of fatty acids, which can actually help you burn fat. Along with this, studies have found that consuming coconut oil regularly is good for your heart health. Just like butter, the coconut oil will help you feel satisfied for longer, making it the perfect swap for a dairy-free bulletproof coffee.
What You'll Need
You can use any type of coffee to make bulletproof coffee, but drip coffee is an ideal choice. It's important to make sure that you are using excellent-quality coffee beans. If you're a bit of a coffee connoisseur, you might want to think about roasting your own coffee beans at home, or you could visit a local roaster and have them make and grind a fresh batch for you. You can also use a manual or electric coffee grinder at home if you have one, using high-quality beans. Either way, the fresher the coffee grounds, the better. For the most authentic experience, consider using coffee beans from Colombia or Guatemala.
You will also need coconut oil. This oil will be solid when stored in the fridge, but turns to liquid at room temperature, particularly on warmer days. However, there will be no significant difference when adding it to your coffee in either form. Finally, you'll need to add sweetener. You can use sugar, or try a zero-calorie or low-calorie sweetener if you're trying to cut down on your sugar intake.
Directions
1
Start by brewing your coffee, and pour it into a small saucepan.
2
Add the coconut oil and sweetener. You can either use a hand mixer to combine the ingredients until it becomes frothy, or use a blender to combine them all together.
3
Pour into your mugs, and enjoy!
About the author
Johan Hedlund
I´m living in Karlstad, Sweden with my family. Been working the last 25 years with several start ups in the tech industry. Coffee has been an integral part, both professionally and privately. Eager to learn new things and happy to be a member of the era of we community.
Coffee experts
@The Coffee Lab
I like the coconut oil alternative, i'll give this a go!