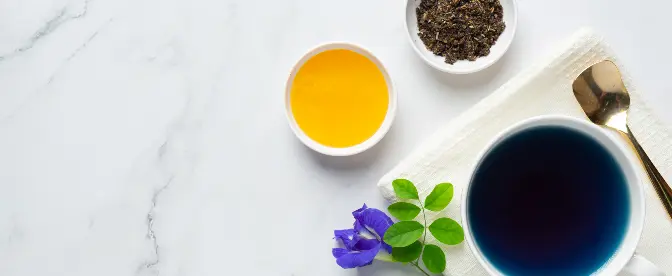 Palo Azul Tea
Palo Azul tea is a popular brew made from the bark of the Palo Azul plant. Here's how to make Palo Azul tea from bark (that you can find in many Hispanic grocery stores).
Published November 14, 2021
Directions
1
Pour 6 cups of water into a large pot and set it to boil.
2
Once the water is boiling, add the Palo Azul bark. Stir and cover the pot while lowering the flame.
3
Steep the bark in the boiling water for 1 hour. Keep the pot covered to prevent evaporation and maximize extraction.
4
After an hour, turn off the heat and strain the tea into a cup.
5
Add a sweetener like sugar or honey if you'd like. You can drink Palo Azul tea hot, or keep it in the fridge for iced tea.
What Is Palo Azul Tea?
Palo Azul tea is a herbal tea made from the bark of the Palo Azul plant also known as Kidneywood, which is native to Mexico and the southwestern US. This bark has been used for centuries as a medicinal brew to treat infections and inflammation. It can even be traced back to the Aztecs, who called it 'snake water'.
Palo Azul gets its name from its distinctive blue tint ('Palo Azul' is Spanish for 'blue stick'). This tint is achieved after brewing for an hour or more and can often change to amber or red. Palo Azul tea has been gaining popularity across the world for its many health benefits.
What Color Is Palo Azul Tea?
Palo Azul is a light blue color. The color is very faint but you can get a deeper tint by brewing the tea for longer than an hour. The color can also be deepened by putting your cup in bright light to make the color more noticeable.
Palo Azul Benefits
The health benefits of Palo Azul have been recorded for centuries. Some Palo Azul benefits include:
It can improve kidney function
Palo Azul tea can reduce oxidative stress and prevent damage to kidney cells. The kidney is one of the main organs of detoxification in the body, so Palo Azul can improve detox functions. It reduces the risk of kidney stones, promotes urination, and helps clear toxins and metabolites out of the body faster.
It can reduce inflammation
Palo Azul can be used to reduce the pain and inflammation associated with conditions like arthritis and gout.
It can calm an upset stomach
This tea works to calm stomach upsets like indigestion, as well as being anti-diarrheal.
About the author
Asharita D'Silva
Join me in discovering the wonderful world of coffee! As a writer, coffee is my fuel and newfound passion. I love writing about new coffees, sustainability, and coffee culture around the world. I'm always discovering new things about coffee and the industry, which I share with the great community here at Era Of We.
Coffee experts
@The Coffee Lab
I have never seen blue tea before! I do get an upset stomach sometimes so I'll definitely give this a go. It sounds delicious too. Thanks for the recipe!