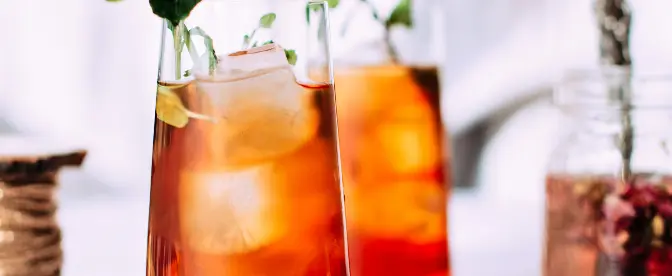 Chá Gelado
Todos estão familiarizados com o Café Gelado - mas você já experimentou o Chá Gelado? Preparar chá com água fria em vez de água quente tem muitos benefícios. O resultado é um chá mais leve e sutil no sabor, com notas de degustação mais dist
Publicado em Outubro 25, 2021
Instruções
1
Coloque as folhas soltas de chá de sua escolha em uma jarra. Se você não tiver folhas soltas de chá, pode substituir as 3 colheres de chá por 3 saquinhos de chá.
2
Despeje a água fria por cima.
3
Deixe o chá e a água em infusão por algumas horas - recomendamos de 6 a 8 horas para o chá branco, verde ou de ervas, e de 8 a 12 horas para o chá oolong ou preto.
4
Depois que o chá ficar em infusão por várias horas, retire os saquinhos de chá ou coe as folhas de chá.
5
Despeje o chá sobre o gelo e adoce, ou adicione qualquer outra guarnição de sua escolha, como limão, hortelã ou frutas congeladas.
Sobre o Autor
Tassia B. Sita
I'm Tassia, a 37 y/o Brazilian content writer and communicator, always ready to deliver great information about coffee, sustainability, and science in both English and Portuguese - but not before I grab my cup of coffee!
Ler o artigo original
Idioma original : English
Especialistas em café
@Era of We