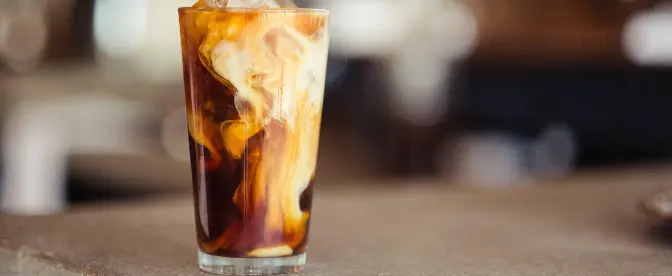 Cold Brew Com Mel E Leite De Amêndoa
Resolvi fazer esta bebida que vi no cardápio da Starbucks usando apenas três ingredientes - mel, leite de amêndoa (ou o leite de sua escolha) e café Cold Brew. E você ainda pode personalizar de acordo com as suas preferências. Se quiser tam
Publicado em November 2, 2021
Instruções
1
Adicione a quantidade desejada de café Cold Brew a um copo (eu normalmente uso grãos 100% arábica no preparo). Gosto também de comprar o Cold Brew pronto "Califia Farms Cold Brew" ou o "Chameleon Cold Brew".
2
Em seguida, adicione o mel (pessoalmente gosto de usar só um pouco de mel, para que a bebida não fique muito doce). Com uma colher ou canudo reutilizável de metal misture o mel e o Cold Brew vigorosamente. Certifique-se de que a mistura esteja homogênea.
3
Por último, adicione a quantidade desejada de leite de amêndoa. Geralmente 2 a 3 colheres de sopa é o suficiente. Em seguida, adicione cubos de gelo, mexa tudo e aproveite!
Sobre o Autor
Tassia B. Sita
I'm Tassia, a 37 y/o Brazilian content writer and communicator, always ready to deliver great information about coffee, sustainability, and science in both English and Portuguese - but not before I grab my cup of coffee!
Ler o artigo original
Idioma original : English
Especialistas em café
@Era of We