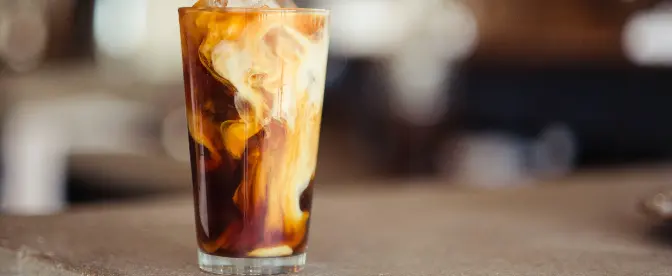 Honey Almond Milk Cold Brew
I saw a honey almond milk cold brew drink on the menu at Starbucks the other day and I knew I had to make it myself. I tend to shy away from anything sweetened, especially with unnatural sweeteners, so I decided to use only three ingredients - honey, almond milk (or your milk of choice) and cold brew. With the weather still warm here in Southern California, I decided to give this recipe a go. It has now become one of my favorite iced drinks and it is so easy to customize to your preferences (you can add more or less honey, any type of milk and your personal favorite cold brew)! To make this recipe a little differently, I decided to make my own almond milk. I have been wanting to do this for a while and I will say it is definitely a game changer! I used this recipe from the Minimalist Baker and it is so easy to follow. It does not take long to make and it will save you money over time to make your almond milk as opposed to buying it already made. Link to almond milk recipe: https://minimalistbaker.com/how-to-make-almond-milk/#wprm-recipe-container-35701
Published September 10, 2021
0
Violeta Carmona
The Coffee Lab
0
Directions
1
Add your desired amount of cold brew to a glass (I typically shop at Trader Joes so I use their 100% Arabica Cold Brew) I also like Califia Farms Cold Brew and the Chameleon Cold Brew.
2
Next, add in your honey (I like to add just a small squeeze of honey so it is not too sweet). With a spoon or reusable metal/glass straw, mix the honey and cold brew vigorously. Make sure there are no clumps and you are good to go!
3
Lastly, add your desired amount of almond milk. Add a splash of the almond milk, typically 2-3 tablespoons, then add ice cubes and stir it all together.
0