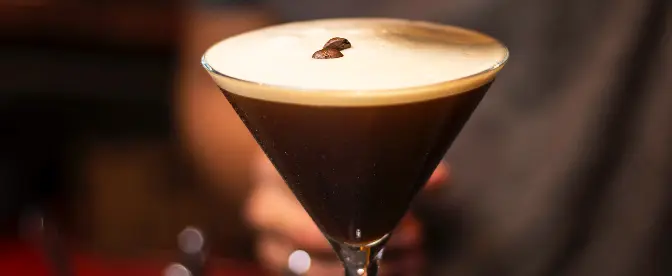 Coquetel Espresso Martini
Provocante, elegante e doce, o Espresso Martini é um clássico. A cultura popular aponta a sua origem na Soho Brasserie, onde Dick Bradsell criou a bebida. De acordo com a lenda, uma jovem top model pediu claramente uma bebida que "a acordas
Publicado em Outubro 27, 2021
Instruções
1
Prepare uma dose de café espresso e coloque no freezer. Eu uso um recipiente vedado para isso, para evitar que odores alterem o aroma do espresso. Normalmente, 5 minutos esfriarão o café o suficiente. A ideia é evitar que o café quente derreta o gelo na hora da mistura.
2
Em uma coqueteleira, misture a vodka, o licor de café, o espresso, o xarope de açúcar e gelo. Agite até que o coquetel esteja bem gelado.
3
Coe em uma taça de martini gelada.
4
Enfeite o coquetel com quatro grãos de café.
Sobre o Autor
Chandra Melo
Marketing as job, barista as passion. An authentic coffee lover, looking for the next fantastic cup of coffee that I will fall in love with. Coffee, for me, is more than a beverage. It's about community and connection - how can all the world consume the same fruit? And differently? How can we have so many different tastes? I also don't know. And because of this, I feel in love each day more for this world. Happy to share and make a change in the coffee community.
Ler o artigo original
Idioma original : English
Especialistas em café
@Era of We