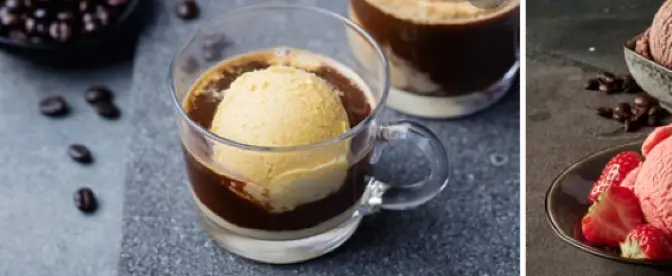 Coquetel Suave De Café Com Baunilha
Este coquetel é a definição da elegância. Um sabor forte que vai agradar as papilas gustativas e deixar um gosto doce. Faça um brunch especial e impressione seus amigos com esta combinação de baunilha e café. Ele é melhor servido como sobre
Publicado em Outubro 25, 2021
Ice Cream scoop, Small tumbler, Spoon, Jigger
Ice Cream Scoop, Small Tumbler, Spoon, Jigger
Instruções
1
Coloque no copo uma colher de sorvete, ou use a quantidade de sorvete que desejar (sorvete nunca é demais).
2
Adicione sua vodka e licor de baunilha. Neste ponto, não queremos que o sorvete derreta muito rápido.
3
Adicione o espresso quente por cima do sorvete. Feito isso, mexa 3 vezes para que os ingredientes se misturem.
4
Crie um pequeno caule enrolando e prendendo as pontas da folha de hortelã. Espete no seu sorvete para que fique firme.
Sobre o Autor
Chandra Melo
Marketing as job, barista as passion. An authentic coffee lover, looking for the next fantastic cup of coffee that I will fall in love with. Coffee, for me, is more than a beverage. It's about community and connection - how can all the world consume the same fruit? And differently? How can we have so many different tastes? I also don't know. And because of this, I feel in love each day more for this world. Happy to share and make a change in the coffee community.
Ler o artigo original
Idioma original : English
Especialistas em café
@Era of We