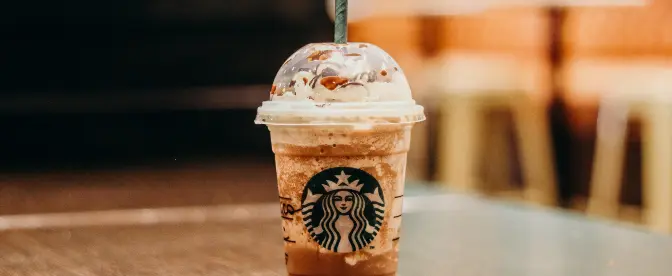 Caramel Frappucino Starbucks
Frappuccinos are incredibly popular. What was once a summer staple is now enjoyed all year round as a refreshing treat and sweet pick-me-up. The wide range of flavours on offer means that there's a frappe for everyone and most high-street c
Published November 15, 2021
But let's face it, no one wants to drag themselves to Starbucks every time they fancy a cool frappe. You wouldn't go to a coffee house every time you want a cup of coffee, you just turn on the machine or boil the kettle and make an instant. Coffee in Starbucks is a treat, not something that most of us want to do all of the time.
The good news is with this caramel Frappuccino recipe, you can recreate your favourite frappe at home whenever you want to. Here's a look at how to make a caramel frappe.
How Much is a Medium Caramel Frappe at Starbucks?
Starbucks prices can vary depending on location, but a tall caramel frappe could cost you around £4. This cost can increase if you want an extra shot, extra syrup, or whipped cream.
£4 might not sound like much, but if you wanted to enjoy one frappe a week for a year it would set you back £208. Which is another fantastic reason to use a copycat Starbucks caramel Frappuccino recipe to make your own.
Variations To Try
Even better, when you make a brown butter caramel Starbucks at home, there are plenty of variations that you can try!
A Healthier Frappe
For a healthier frappe switch to skimmed milk, use sugar-free syrup, and skip the cream.
A Thicker Frappe
The easiest way to thicken your frappe is to add a scoop of vanilla ice cream and reduce the amount of ice that you use. You could also add smoothie or protein powder if you have them.
Try Different Flavours
One of the best things about making a frappe at home is that you can experiment with flavours and even build up a collection of syrups. Try adding some chocolate sauce for an easy mocha caramel frappe or adding some vanilla to your cream for a sweeter flavour.
Directions
1
Place the ice cubes in a blender.
2
Pour over the milk, coffee* and 3 tablespoons of the caramel.
*If you don't have a coffee machine, mix a teaspoon of instant coffee granules with 25ml of boiled water for a very strong coffee
3
Cover and blend for 2 minutes until the ice is crushed and the drink is smooth.
4
Take a tall glass, and carefully drizzle 1 tablespoon of caramel around the sides (this is optional but looks authentic!).
6
Top with whipped cream and drizzle over the remaining syrup.
About the author
Jennie Backteman
I´m a ultramarathon runner, landscape designer and a coffee lover.