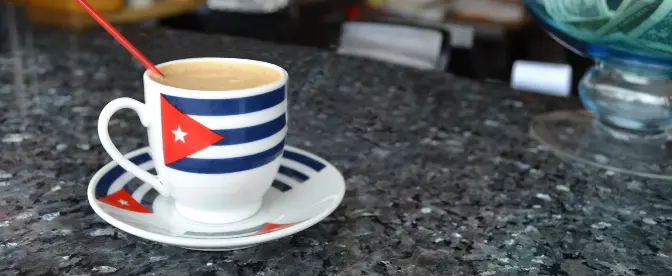 Cuban Coffee
This Cuban espresso recipe is strong, sweet, and rich. The bitter flavor and sweet sugar offer a fantastic caffeine hit.
Published December 23, 2021
What is Cuban Coffee Called?
A Cuban coffee is called a Café Cubano.
What is Cuban Coffee?
This Cafe Cubano recipe is a strong Cuban espresso topped with foamed, coffee-flavored sugar. It's a very strong, but sweet drink with a rich complex flavor.
This Cuban coffee recipe is a short drink. But when it comes to making Cuban coffee you can easily use this espresso recipe as the base for many other delicious drinks.
Some other Cuban Coffee options include:
A Colada is a large Cuban espresso, typically shared between friends. It is made in this style and topped with foamed sugar.
A Cortadito is a strong Cuban espresso, usually served unsweetened and topped with steamed milk. It's a long drink resembling a strong latte.
A Café Con Leche is an espresso topped with steamed milk, in equal quantities for a very strong long drink. This kind of coffee is served all around South America, often with breakfast.


Is Cuban Coffee Strong?
A Cuban coffee shot is very strong. Much stronger than the coffee that we're used to drinking in our favorite coffee houses. That's why it's topped with a sweet sugar foam called espumita. The rich, strong Cuban espresso and sweet sugary foam work together, complementing each other to create a delicious drink.
A Cuban coffee drink would be too strong and bitter to enjoy without the sweet addition.
Making a Cuban Coffee Cocktail
Coffee cocktails are very popular all over the world, with different countries offering their own takes on alcoholic coffee drinks. A Cuban Coffee Cocktail is made with Cuban espresso, sugar, Angostura bitters, bourbon, and orange peel, served over ice.
Typically for this drink, the espresso and sugar are heated up together to create a thick, sweet coffee syrup, before being added to the alcohol.
Directions
1
Fill your espresso maker with ground coffee and water, according to the manufacturer's instructions
3
Add the granulated sugar to a small jug or bowl
4
Add one tablespoon of the brewed espresso
5
Use a small whisk to beat together vigorously until the sugar and espresso thicken and the sugar is almost totally dissolved
6
Leave to sit for a few minutes until the foam rises to the top
7
Divide the espresso between three small cups and top with the foamed sugar
Notes:
Foaming the sugar can take a little practice to get right. Start with a tablespoon of espresso but add a little more if you need to.
If you prefer the flavor you can use half white sugar and half brown.
If you are using a drip coffee machine, take the first few drips to foam the sugar. The first part of the coffee brewed tends to be the strongest.
About the author
Chandra Melo
Marketing as job, barista as passion. An authentic coffee lover, looking for the next fantastic cup of coffee that I will fall in love with. Coffee, for me, is more than a beverage. It's about community and connection - how can all the world consume the same fruit? And differently? How can we have so many different tastes? I also don't know. And because of this, I feel in love each day more for this world. Happy to share and make a change in the coffee community.