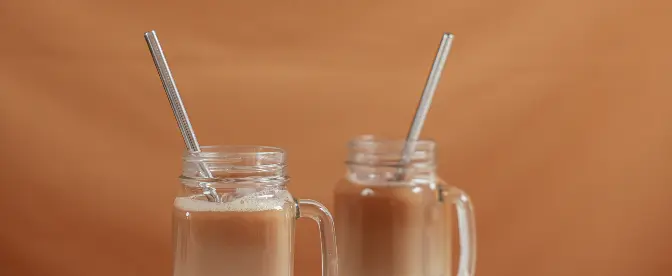 Dunkin Donuts Iced Signature Latte
An Iced Latte is everyone's favorite cool pick-me-up. This Dunkin Donuts iced caramel latte copycat is the perfect easy-to-drink energy boost.
Published November 26, 2021
How to Make Dunkin Donuts Caramel Mocha Iced Coffee
If you'd like to turn this into a caramel mocha, replace 3 tablespoons of caramel syrup with chocolate, or use chocolate milk instead of regular.
You could decorate with either caramel or chocolate syrup for a great finish.
Why Make a Dunkin Donuts Iced Mocha Latte Recipe at Home?
You might be wondering why you should learn how to make caramel iced latte when you can already buy the perfect drink from your favorite coffee house or donut store.
Well, there are a few reasons. First, if you learn how to make caramel iced coffee Dunkin donuts style at home, and you buy all the syrups and sauces that you need, you can make your favorite refreshing iced coffee drink whenever you fancy it without having to travel.
Another great reason to make iced coffee at home is that you can experiment with flavors. Once you've got a great basic iced coffee recipe you can start to make some changes. You could reduce the calories by using low-fat milk and sugar-free syrup. You could make a vegan-friendly drink. You can even try different syrups and toppings, or try adding fruit for new, exciting flavors.
Perhaps the best reason to make iced coffees at home, however, is that you will save a fortune. Coffee houses aren't cheap and making your favorite drinks at home could save you an awful lot of money over the course of a year.
Can You Make an Iced Caramel Latte Recipe without a Coffee Machine or Blender?
Yes!
If you don't have a coffee machine, you could use something like a French Press or AeroPress to brew an espresso. If you don't have these, you can even just brew a strong coffee using granulates or powder and boiling water.
If you don't have a blender, a cocktail shaker is an ideal alternative, and you'll give your arms a great workout crushing the ice. Alternatively, just whisk the ingredients and pour them over the ice cubes, skipping the crushing entirely.
Directions
2
Brew 4 shots of your favorite espresso.
3
Add the ice to a blender.
4
Pour over the coffee and milk.
5
Add 4 tablespoons of caramel coffee syrup or sauce and the coffee creamer.
6
Cover and blend carefully until the ice is crushed.
9
Place the chocolate chips into a small sandwich bag and seal.
10
Use a heavy rolling pan to crush them into smaller chips (but don't crush to dust).
11
Drizzle the remaining syrup on top of the cream and sprinkle over the chocolate chips
About the author
Jennie Backteman
I´m a ultramarathon runner, landscape designer and a coffee lover.