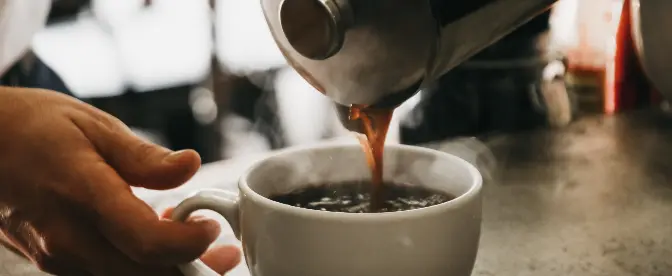 French Coffee With Milk
A French Coffee is a classic sophisticated drink. Smooth, rich, and free from fussy flavors or sweet additions.
Published November 25, 2021
Why Use a French Press?
A French press is a must if you want to know how to make coffee with milk easily and quickly.
Using a French Press, or you may know it as a coffee press or press pot, is fast and easy. The press itself is incredibly easy to clean, and ideal for taking with you to make gorgeous coffee while you are away from home.
Do You Need to Grind Your Own Coffee Beans?
No.
You can use full coffee beans and grind them yourself with a coffee grinder. This means that you get the perfect coarse beans every time and that you can use any beans that you like in your French Press.
But for convenience and ease, you can also buy coarsely ground coffee. Just make sure it's always coarse, which is ideal for a French Press. Most pre-ground coffee will tell you if it's suitable for a French Press on the label.
How to Add Milk to Coffee
You should warm the milk before adding it to your coffee and then add slowly, stirring as you pour for an even blend.
How you add the milk can depend on what kind of coffee you are making. For a classic French coffee, or a latte, you add the milk to the coffee, but for something like a macchiato, you add the espresso to the steamed milk.
Making a French Latte
To make a French Latte first brew your coffee in your French press. While this is brewing, steam or froth your milk using a coffee machine or a milk frother.
Pour half of the milk into your mug, or a tall coffeehouse-style latte glass, pour in the French coffee, and then top with the remaining milk.
Do You Add Sugar to a French Coffee?
Traditionally, French Coffee has a strong, bitter flavor, and would not be served with sugar.
However, we've developed a taste for sweeter things, and so many people now prefer to add sugar, natural sweeteners, or sweet syrups to their coffees.
Try adding a tablespoon of vanilla syrup and frothed milk for a French Vanilla Latte.
And now how to make a perfect coffee with milk!
Directions
1
Prepare your French coffee press by removing the plunger.
2
Add 3 Tablespoons of coarsely ground French roast coffee.
3
Pour in 1 Cup of boiled water.
4
Leave to steep for 5 minutes.
5
While your coffee is brewing, gently heat the milk in a small saucepan on the hob, stirring often.
6
Remove the milk from the heat before it reaches the boil.
7
After 5 minutes gently press the plunger down in your French press.
8
Pour your coffee into 2 mugs and top with warm milk.
About the author
Jennie Backteman
I´m a ultramarathon runner, landscape designer and a coffee lover.