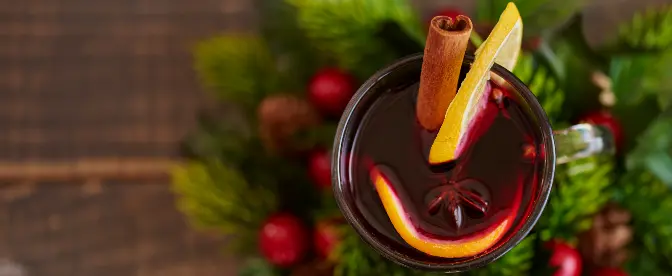 Gluhwein
Gluhwein is a type of mulled wine, popular as a Christmas drink.
Published December 19, 2021
Gluhwein really ties up the best of the season: warm spices, good wine, and made in large batches to share with your friends and family. Gluhwein can be traced back to the 15th century and continues to be a favorite in Germany and many other European countries. The name literally translates to "smoldering wine", a reference to the hot temperature of the wine when served. Gluhwein is great for Christmas parties and as a gift- just follow this simple recipe!
Directions
1
Combine your wine and sugar in a large vessel over medium heat.
2
Once the wine is warm but not boiling, crush your cardamom pods and add to the wine along with cinnamon, cloves, star anise, and orange slices.
3
Simmer over low or medium heat for 30 minutes but make sure that the wine doesn't boil.
4
Turn off the heat and add your garnishes like chopped almonds or raisins.
5
Serve warm with Christmas cookies!
About the author
Asharita D'Silva
Join me in discovering the wonderful world of coffee! As a writer, coffee is my fuel and newfound passion. I love writing about new coffees, sustainability, and coffee culture around the world. I'm always discovering new things about coffee and the industry, which I share with the great community here at Era Of We.