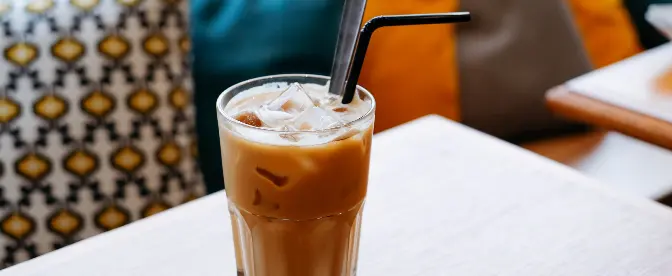 Greek Iced Coffee Or Frappe
A Greek Iced Coffee is a summer staple. It's the easiest Frappe to make at home, you don't even need a blender or a coffee machine!
Published November 26, 2021
What is an Iced Frappe?
An iced frappe sounds like something complicated but actually, the answer to what's an iced frappe is surprisingly simple. An iced frappe is a coffee drink made with coffee and milk, either poured over or blended with ice, instead of made with warm milk or hot water.
You can add different flavors and sweeteners to an iced frappe recipe to recreate your coffee house favorites or try something new, but the basic recipe is typically strong coffee or espresso with milk and ice.
Some frappes, especially those made in popular coffee houses are cream-based instead of coffee. They are made using milk or cream, and different syrups or fruits, without the addition of espresso.
What's a Greek Iced Coffee?
In Greece, there are two different kinds of iced coffee. The first, the frappe, is made using milk or cream, for a thick, frothy drink. It's not typically flavored but can be sweetened with sugar.
Then there's the Freddo, which is a double espresso blended or shaken with ice. The Freddo is often used as a base for an iced cappuccino and is popular with people that like their coffee strong.
Unlike coffee house frappes, which are typically made using a shot of espresso, a Greek Iced Frappe is usually made with instant coffee powder or granules for a super easy drink.
In Greece, these chilled coffees are enjoyed all year round as a diet staple. The recipe is as simple as possible and can be made without any machines or equipment, giving absolutely everyone a chance to enjoy them as much as possible.
Directions
1
Use a jug to mix the instant coffee powder and sugar with the just-boiled water
2
Stir until the powder has dissolved and leave to cool (it doesn't need to be cold, just not hot. You can pop it in the fridge for a few minutes)
3
Add the milk and whisk together
4
Place the ice in a tall glass
5
Pour over the coffee and enjoy!
If you prefer your Greek Iced Coffee to be frothy, place all of the ingredients (including the ice) in a lidded jar or cocktail shaker. Seal and shake vigorously for 2 minutes before pouring out into a glass. Another option is using a blender to crush the ice and whizz everything together.
If you have a milk frother you can use it to add a little foamed milk to the top for a luxurious finish.
You can also use half and half instead of milk or add 2 scoops of vanilla ice cream for a thicker, more decadent drink. If you do this you might want to skip or reduce the sugar, as the drink will already be fairly sweet.
About the author
Jennie Backteman
I´m a ultramarathon runner, landscape designer and a coffee lover.