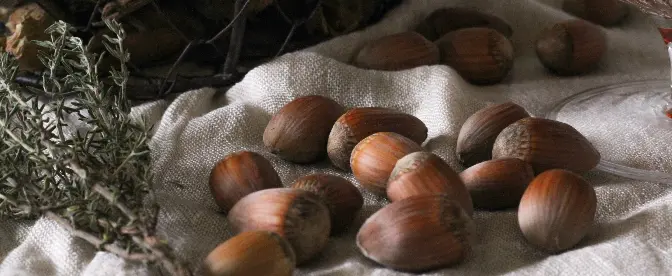 Hazelnut Iced Coffee
A homemade hazelnut iced coffee is the perfect drink on a warm summer's day. Classic hazelnut flavors perfectly complement chilled coffee for a mature and sophisticated beverage.
Published November 25, 2021
Making a Hazelnut Iced Coffee Without an Espresso Machine
Not having an espresso machine at home doesn't mean that you can't enjoy this hazelnut iced coffee recipe. In fact, you can make it just as easily without one.
If you've got any kind of coffee brewing equipment, such as an AeroPress or a drip brewer, you can still brew a double espresso using your favorite coffee.
If you drink instant at home, simply brew a very strong coffee, using around ¼ cup of boiled water to dissolve the coffee powder or granules.
Making a Creamier Iced Hazelnut Latte Recipe
This coffee is a smooth and sophisticated drink, without the whipped cream, drizzle, and decoration of some of the best coffee house options.
But it doesn't have to be. If you love hazelnut flavor and creamy coffees and drinks and you are wondering, how do they make hazelnut coffee with extra cream, you've got a few options.
Firstly, you could just increase the milk, or use a single shot of espresso for a milder drink. Then, you could switch milk for half and half and add whipped cream, and drizzle with a sweet vanilla syrup.
Adding Chocolate to an Ice Hazelnut Frappe
Who doesn't love chocolate and hazelnut? Nutella and other nutty chocolate spreads are incredibly popular and this flavor combination is always a hit. So, why not create a nutty chocolate iced coffee?
Simply reduce the hazelnut syrup, using 2 tablespoons, and add 2 tablespoons of chocolate coffee syrup, chocolate sauce, or even a melted chocolate bar. Then, skip the vanilla extract, you shouldn't need this extra sweetness if you are adding chocolate.
You might also want to top with whipped cream and drizzle with chocolate sauce for a delicious, iced coffee drink.
Can You Make Your Own Iced Coffee Syrup?
You can absolutely make your own coffee syrup recipe. Simply mix 6 tablespoons of white sugar with ¾ cup water in a small saucepan. Bring to a rolling simmer, stirring constantly so that it doesn't stick to the bottom of the pan. Do this for a few minutes unit the mixture has thickened.
Remove from the heat and leave to cool before adding 3 tablespoons of hazelnut extract or hazelnut flavor liqueur and mixing together. Store this in a sealed bottle or jar in your fridge and use it as needed.
Here's how to make the best hazelnut coffee brew recipe at home!
Directions
1
Brew a double shot of your favorite espresso and leave to cool slightly
3
Pour over the espresso and milk
4
Add the hazelnut syrup and vanilla extract
5
Cover and carefully blend for 2 minutes until the ice is crushed
6
Pour into a tall glass and enjoy
About the author
Erik Hedlund
With Era of We and The Coffee Lab, I hope to share knowledge, increase the value of coffee – and secure the future of coffee.