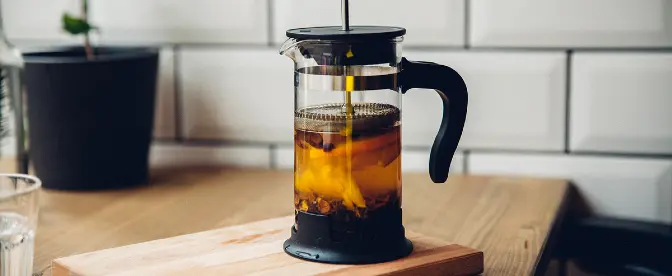 How To Make A Cold Brew With A French Press
So you're in the mood for something nice and chill. While lattes and cappuccinos could be your favorite, it's time to switch it up a little on a hot summer day. Let's go for a cold brew!
Published December 12, 2021
Did you know cold brew actually has more flavor when compared to a traditionally brewed hot cup of coffee as it has reduced acidity up to 67%. Less acid means more flavor of the delicate notes. The same coffee that you may drink hot might actually taste more chocolatey and smoother when served as a cold brew.
At this point, I'm sure I've convinced you, and you're tempted to make a cold brew. But all you have is a French Press. That's perfect because it's all you need to make a cold brew.
Directions
1
Add 4 Oz of coarse ground coffee to the French press.
2
Gently pour about 3 cups of room temperature or cold water all over the grounds.
3
Stir and ensure the grounds are wet.
4
This needs to brew for about 14-16 hours at room temperature or in the refrigerator (quite a long wait, I know, but it'll be worth it.)
5
Strain and press out any leftover liquid. Now you can store the cold brew in the refrigerator.
6
What you have now is chilled concentrated cold brew. To serve, mix the concentrate with water in a 1:1 ratio.
7
How to serve a chilled cold brew
Pour water and coffee concentrate in a 1:1 ratio.

Add some ice.

Add some milk/cream, sugar, stir and serve!
About the author
Shruti Gupta
I like coffee and I like writing, reading, and traveling, all with a cup of coffee in my hand. My recommendation? Brew some coffee (nutty flavors preferred), make it strong, add a little cinnamon and brown sugar, and a touch of soy milk, you've got happiness in a cup! Best served chilled :)