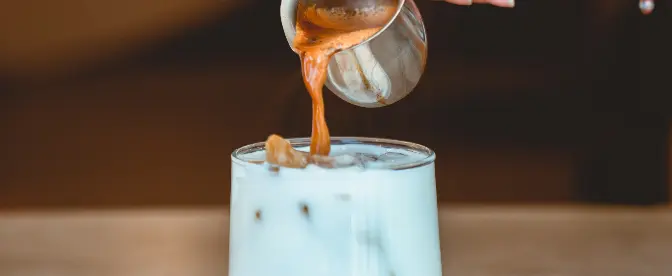 Iced Caramel Macchiato Starbucks
An iced caramel macchiato is the chilled equivalent of everyone's favourite warming caramel coffee. Refreshing, but comforting. Rich but smooth. A gorgeous combination of flavours in a super smooth and satisfying drink. It's a pick-me-up, b
Published November 12, 2021
Directions
1
Place the ice cubes into a blender.
2
Pour over the espresso*, milk, and vanilla syrup.
*An alternative to espresso it's to mix 2 teaspoons of instant coffee with 50ml boiled water or brew with a machine.
3
Blend until the ice is crushed and the drink is smooth.
4
Top with whipped cream if desired - Whisked to peaks or use tinned squirty cream.
5
Drizzle liberally with caramel sauce or syrup to finish.
About the author
Erik Hedlund
With Era of We and The Coffee Lab, I hope to share knowledge, increase the value of coffee – and secure the future of coffee.
Coffee experts
@The Coffee Lab
Caramel Macchiato is my Starbucks' favorite. I always say it is like drinking a Twix candy bar. I never tried the iced version before, though. Now, I'll have to give it a shot!