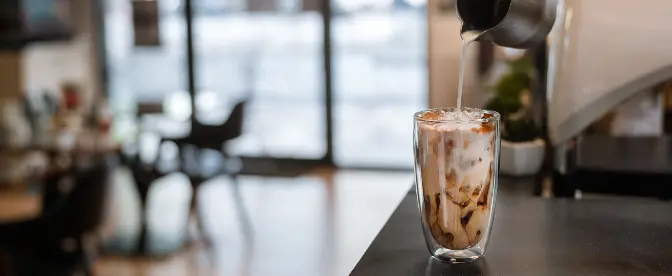 Iced Vanilla Latte Coffee
An iced vanilla latte is a classic sweet summer treat. Creamy, refreshing, and absolutely delicious, it's the perfect cold coffee drink.
Published November 25, 2021
Decorating an Iced Vanilla Latte
For many iced drinks, you'd top with whipped cream and then drizzle over a little more of whatever syrup you've used to flavor the drink for a tempting finish.
However, this doesn't work with vanilla because the syrup would barely be visible on top of white cream.
Sprinkles make a fantastic alternative.
Top your iced vanilla latte with whipped cream before liberally sprinkling your favorite multicolored sprinkles on top to finish.
What's the Difference Between a Vanilla Latte and a French Vanilla Latte?
You might be wondering how to make a French vanilla latte at home because let's face it, most things sound a little posher if you call them French or Italian!
Well, the good news is, you make a French Vanilla Latte with exactly the same ingredients and method as a standard vanilla latte.
French Vanilla is the same a normal vanilla. People often just call it French because it makes it sound a little more luxurious and grown-up. Just like a sophisticated adult is far more likely to buy a mocha than they are a chocolate coffee.
Can You Make an Iced Vanilla Latte without Syrup?
Let's face it, while most of us have got some kind of chocolate or caramel sauce or syrup, vanilla isn't as common a store-cupboard essential.
The good news is, you don't have to buy vanilla syrup just to make this drink (although it could be a wise addition to your stores if you plan to make it often). Instead, try substituting 2 teaspoons of vanilla extract or essence. It's a stronger, more concentrated flavor so you won't need as much.
Another great alternative is skipping the syrup altogether, decreasing the ice and milk, and add 3 scoops of good quality vanilla bean ice cream. This will give you a glorious creamy iced frappe.
How to Make a Vanilla Latte
If you want to make a hot vanilla latte, skip the ice, and instead foam your milk with either a steamer or milk frother. Pour this onto your espresso and syrup.
Can You Make an Iced Vanilla Drink without Coffee?
If you want a decadent vanilla drink without the coffee hit, either reduce the coffee to one shot or skip it entirely. This will have a richer flavour if you add ice cream or use half and half instead of milk.
Directions
1
Brew a double shot of your favorite espresso and leave to cool slightly.
2
Place the ice in a blender.
3
Pour over the coffee and milk.
5
Cover and carefully blend for 2 minutes until the drink is smooth and well mixed.
About the author
Daniel Hedlund
Working with the Era of We initiative and loves knowledge sharing and a really good cup of coffee.