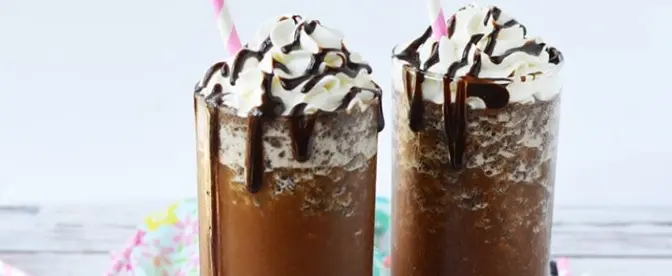 Java Chip Frappuccino Starbucks Copycat Recipe
A homemade easy version of the classic Starbucks Recipe
Published December 19, 2021
Java Chip Frappuccino is one of the most popular blended drinks at Starbucks. It's obviously based on coffee, and it's described as a blend of "mocha sauce and Frappuccino® chips with coffee, milk and ice". And what's more: the official Starbucks website suggests that it should be topped "with whipped cream and mocha drizzle to bring you endless java joy."
Sounds like something scrumptious, more focused on the sweet dessert-like components than on the coffee. And this is quite weird, considering that the name Java comes from an Arabica coffee that's quite strong, originating from the homonym island of the Indonesian archipelago.
Anyway, let's see how we can make the Java Chip Frappuccino at home, with a bunch of easy to find ingredients (including the ones that will substitute the mocha sauce and the frappuccino chips).
Directions
1
Choose a dark roasted coffee, really rich in flavor, brew it and let it chill in the fridge.
2
In the meantime, drizzle a nice quantity of chocolate sauce inside a glass and set aside (even better if you can place it in the freezer: it will then be perfect to contain your frappuccino).
3
In a blender, add ice, coffee, milk, chocolate chips, and chocolate sauce.
4
Secure the lid and start the blending. With a powerful blender, is better to start on low speed for about 30 seconds, switching then to max speed for about 20 seconds (or until the mixture is nicely smooth). At that point, the suggestion is always to try the drink: if you prefer it thicker, add more ice cubes and blend for 30 seconds more.
5
Pour into the glass until the rim, and top with a generous amount of whipped cream.
6
Drizzle with chocolate sauce, and enjoy it immediately.
About the author
Tanya Nanetti
I'm Tanya, originally from Italy but citizen of the world. I'm a specialty coffee barista (based in Portugal, at the moment) and a freelance writer (check out my articles on Barista Magazine!). Plus, I'm half of the team behind Coffee Insurrection, a website about specialty coffee with a focus on the community: I'm co-creator, SMM and content writer. I'm available for coffee consulting (both online and in house) and for writing work.