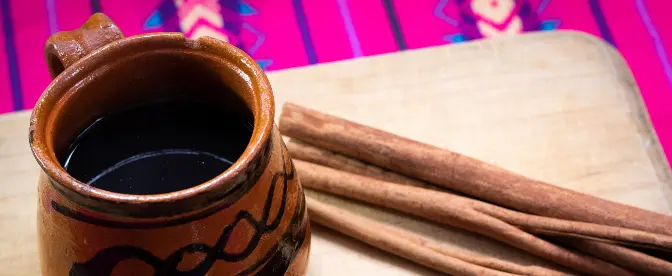 Mexican Coffee
A traditional Mexican coffee is sweet, spiced, and strong. An incredibly warming drink perfect for colder days.
Published December 23, 2021
What is Mexican Coffee Called?
A Mexican coffee is called a café de olla. This translates as coffee from a pot and refers to the clay pot that this kind of Hispanic coffee is made in.
What is Mexican Coffee?
This kind of Mexican cinnamon coffee is steeped in a large clay pot, which is thought to add flavor. It's a strong coffee with added spices for a delicious taste. It's the ideal drink whether you want something to wake you up first thing in the morning or an afternoon pick-me-up on a cool day.


Do You Need a Clay Pot to Make Mexican Coffee?
Traditionally Mexican coffee is made in a large clay pot and drunk from clay mugs. But that doesn't mean that you can't enjoy one if you don't have the right kind of pot. You can use a cast iron cooking dish if you have one, or even a medium saucepan. It might not be authentic, but you'll still get most of the flavors.
What's the Best Coffee for a Mexican Coffee?
Mexican Coffee should have a strong coffee flavor. Ideally, you should use freshly ground Mexican coffee. Any dark roast blends make a fantastic alternative though.
Adding Other Flavors to a Mexican Coffee Drink
Many people like to stir some chocolate syrup or cocoa powder into their Mexican coffee for a different flavor. Topping with a splash of milk, and a little orange people is also a popular option.
Making a Mexican Coffee Cocktail
If you are looking for a Mexican Coffee Recipe online, you'll probably come across plenty of recipes with added tequila and Kahlua.
Mexican Coffee Cocktails are the Mexican take on a classic Irish coffee. To make one, simply add a shot of Kahlua, and half a shot of tequila to your favorite coffee and top with a good splash of milk.
Directions
1
Grind the coffee beans to a coarse texture if you are using whole beans (ground coffee is fine too) and set to one side
2
Take a heatproof clay pot or medium saucepan and place it on the hob over a medium heat
3
Add 3 cups of water and bring to the boil carefully
4
Add the piloncillo, cinnamon, a whole clove, and a star anise, and stir
5
Reduce the heat and simmer until the piloncillo has dissolved, or for 5 minutes if you are using packed dark brown sugar
6
Stir in the ground coffee and simmer for a further 5 minutes, stirring often
7
Remove from the heat, strain through a cheesecloth, and pour or ladle into 3 large mugs
About the author
Jennie Backteman
I´m a ultramarathon runner, landscape designer and a coffee lover.