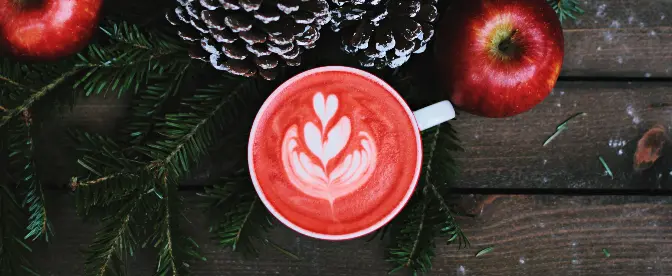 Red Velvet Latte Recipe
Red velvet latte is a perfect treat, combining the best of red velvet cake and rich coffee.
Published January 9, 2022
What Is Red Velvet Latte?
A red velvet latte, or red velvet coffee, is a decadent take on your standard latte. Inspired by red velvet cake, a rich yet airy red-hued chocolate cake, this latte is a special treat with its chocolate flavor and fun color. The chocolate chips give it a mocha-like taste, but much deeper since we use chocolate chunks for this red velvet latte instead of cocoa powder or syrup like in a mocha.
Red velvet cake with coffee is a stellar combination so it's no wonder that someone decided it would be a good idea to merge the two together. For a bonus 'red velvet' feel, you can also add red food coloring to your whipped cream! Try out this simple red velvet latte recipe for a quick treat at home.
Directions
1
Add the milk and chocolate chips to a small saucepan and warm over the stove. Keep the heat low and keep stirring till the chocolate melts and you get a smooth mixture. Don't let it boil, so keep the heat low.
2
Once the chocolate has melted, remove it from the heat and add the vanilla extract and red food coloring.
3
Now slowly add the milk to your espresso. You can prepare this as one double latte or divide it by two for two cups.
4
You can top it with whipped cream and chocolate shavings if you'd like, and your red velvet latte is ready to enjoy!
About the author
Asharita D'Silva
Join me in discovering the wonderful world of coffee! As a writer, coffee is my fuel and newfound passion. I love writing about new coffees, sustainability, and coffee culture around the world. I'm always discovering new things about coffee and the industry, which I share with the great community here at Era Of We.