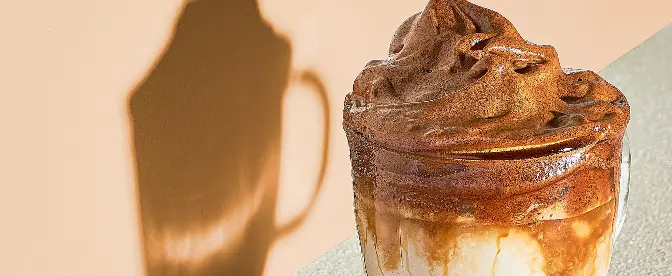 Salted Caramel Mocha Frappuccino
Salted caramel seemed to burst onto the scene as everyone's favourite sweet flavour a few years ago. But actually, salted caramel and salted chocolate have always been a popular choice, we just didn't use the name as often.
Published November 15, 2021
Salt perfectly balances the flavour of sweet chocolate or caramel, and something as simple as adding a pinch of salt to a chocolate milkshake can really highlight the smooth chocolatey flavour.
The growth in popularity of salted caramel was always going to lead to the emergence of the salted caramel Frappuccino. Sooner or later, all of our favourite desserts, snacks and flavour combinations get blended up with ice at the coffee house, and this one is no different.
A salted caramel mocha Frappuccino is the perfect mix of flavours. It's smooth, sweet, and gloriously decadent. You'll feel like you've enjoyed a full dessert, as well as a refreshing drink. It really is the perfect treat.
The only problem with a caramel mocha Frappuccino is that once you've tried it, you want to keep going back for more, which can be expensive, not to mention time-consuming.
The good news is this recipe for salted caramel mocha Frappuccino is perfect for making at home. Allowing you to recreate your favourite Starbucks Frappe without leaving the house, and once you've got the right syrups, they last for ages, so you'll save a fortune.
What Kind of Salt Should You Use in a Salted Carmel Mocha Frap?
If you've got it, you can make this caramel mocha frappe with ready-made salted caramel syrup or sauce, so you don't need to add any salt at all.
If not, you can use regular caramel and add ½ teaspoon sea salt for a perfect sea salt caramel Frappuccino. If you don't have sea salt, just add ½ teaspoon of regular table salt.
Directions
1
Place the ice in a blender*.
*If you haven't got a blender, you can pour your mixed ingredients over ice cubes for a chilled drink, or you can crush your ice cubes in a cocktail shaker, or by placing them in a sealed bag and carefully crushing them with a rolling pin.
2
Pour over the coffee*, milk, syrup**s and vanilla and cover.
*If you don't have a coffee machine, you can make an espresso shot (or two) with instant espresso powder, or just make a strong coffee by mixing one teaspoon of instant coffee granules with enough boiling water to dissolve them.
**You can skip the Chocolate Syrup if you just want salted caramel instead of mocha.
3
Blend for 2 minutes until the ice is crushed.
4
Pour into a glass and top with whipped cream.
5
Add an extra drizzle of salted caramel syrup to decorate.
About the author
Johan Hedlund
I´m living in Karlstad, Sweden with my family. Been working the last 25 years with several start ups in the tech industry. Coffee has been an integral part, both professionally and privately. Eager to learn new things and happy to be a member of the era of we community.