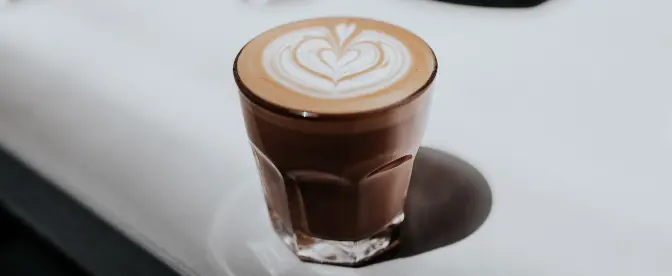 Soy Latte
A Soy Latte is a fantastic dairy-free alternative to everyone's favorite easy coffee house drink.
Published December 14, 2021
What is Soy Milk?
Soy milk is a very popular dairy-free milk alternative. The recent rise in veganism means that it is readily available in most food stores and its high-protein content makes it a very popular choice for vegans and anyone with lactose intolerance.
Soy milk can, however, be a little divisive. Its main ingredient is the soybean, which means that the flavor is fairly beany.
However, coffee has its own strong flavor, which means soy milk coffee has a more balanced flavor without any strong bean notes.
Can You Froth Soy Milk?
Many of our favorite coffee house drinks feature foamed milk. If you've got a coffee machine with a steamer or a stand-alone milk frother that also warms milk, then things like lattes and cappuccinos are easy to recreate at home.
But does a soy milk latte work? Not all dairy-free kinds of milk froth or foam, forcing you to enjoy your latte with warm, watery milk.
The good news is, soy milk is a popular choice in coffee houses because it does foam up well, with a little practice.
Soy milk has a lower fat content than cow's milk, which means it's more sensitive to heat and you have to be a little more careful, but you absolutely can learn how to make a soy latte like Starbucks, topped with creamy, thick soy milk. Here are some tips to help you:
Start with fresh, refrigerated soy milk and give it a good shake.
Heat very carefully to avoid the milk splitting.
Pour slowly into your coffee, so it hits the hot espresso gradually and the foamed consistency is maintained.
How to Make a Vanilla Latte with Soy Milk
If you prefer a vanilla soy latte Starbucks style, it's incredibly easy to make a vanilla latte at home using the same equipment.
For a vanilla soy latte simply stir two tablespoons of vanilla syrup into your espresso before adding the foamed milk.
If you want a stronger vanilla flavor, add ½ teaspoon of vanilla extract to your soy milk before foaming.
How to Make Coffee with Soya Milk
To make a simple soy coffee, simply add a splash of soy milk to your favorite strong coffee.
Directions
1
For a soy latte first, brew a double shot of your favorite espresso and pour it into a large mug.
2
Next, use the steamer on your machine or a standalone frother to foam your soy milk very slowly and carefully.
3
Pour the warmed milk onto the espresso slowly, from as close as you can get to the surface, using a spoon to retain the thicker froth as you pour.
4
Spoon this thick froth onto the top of your latte.
About the author
Jennie Backteman
I´m a ultramarathon runner, landscape designer and a coffee lover.