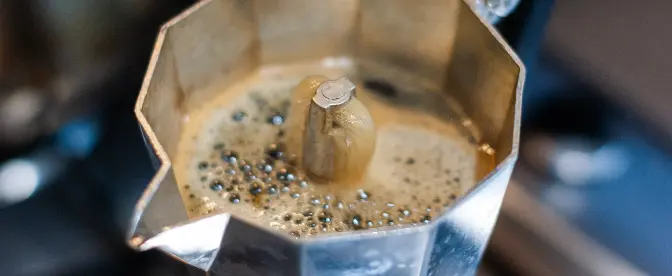 Stovetop Moka Pot
The Moka pot is a traditional brewing method invented in the 1930s in Italy. It brews coffee by passing boiling water pressurized by steam through ground coffee. It is known for brewing a strong, full-bodied concentrated coffee similar to a
Published August 20, 2021
Moka uses around 2 bars of pressure so it's technically not an espresso (which uses at least 9 bars of pressure) but it is an easy, accessible brewing method that allows you to brew a coffee similar to espresso without owning an espresso machine. Moka pots come in a variety of sizes, brands, and material compositions, with the most iconic model being Bialetti Moka Express, made in Italy.
Directions
1
Bring kettle water to a boil and remove from heat. Allow the water to cool slightly to ensure optimal taste and prevent the metallic undertones in your coffee.
2
Grind 25g of coffee to a setting somewhere between a drip and espresso setting. You can adjust the grind size according to your taste, finer for a more full-bodied brew, coarser for a milder brew.
3
Pour the 175ml of heated water into the Moka Pot. Fill up to the line, just below the pressure valve.
4
Insert the filter basket into the brewer bottom and fill it with coffee, slightly mounded. The basket should be approximately half-full.
5
Tap the side to evenly distribute the coffee grounds and brush away loose grounds on the top edge. You can tamp the surface of the coffee with your grinder to ensure even extraction.
6
Screw the top on the brewer. Use a cloth since the brewer will be hot. Be careful not to over-tighten.
7
Put the brewer on the stove, using medium heat. Leave the top lid open.
8
As the coffee comes out, the rich-brown stream will gradually get lighter in colour. Once the coffee stops flowing or the stream is light yellow, remove from heat and close the lid.
9
Dilute with hot water or milk, depending on your taste preferences.
10
Enjoy!
Tips and Tricks for brewing with Moka Pot
Experiment with grind size - while some recipes recommend a fine espresso grind, this can cause a bitter taste. Start with a grind in between espresso and drip coffee and adjust according to your taste.

Does coffee taste too bitter? Try a coarser grind.

Does coffee taste too sour? Try a finer grind.

Do NOT fill above the line in the valve.

If your coffee explodes while brewing, turn the heat down, if it bubbles too slowly, turn the heat up slightly,

After taking the pot off the stove, wrap the bottom in a chilled towel or run under cold tap water to stop extraction and prevent the coffee from acquiring a metallic taste.