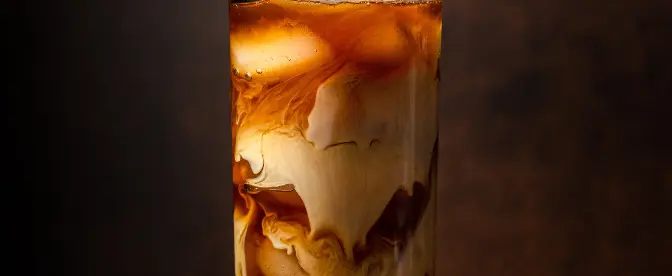 Thai Iced Coffee Recipe
An easy guide to prepare at home one of the most famous iced coffee drinks.
One of the fondest memories of many trips around Thailand is the local super sweet (and super strong) coffee drink simply known as Thai Iced Coffee.
Let's see how easy it is to replicate the recipe at home, with a few simple ingredients.
Directions
1
Add the cardamom to the ground coffee and brew it following your usual recipe.
2
Pour the hot coffee into a jug or a pitcher and add the liquor or syrup and stir to mix it properly.
3
Fill two big glasses with ice cubes or crushed ice depending on your preference.
4
Split the coffee between the two glasses, and top it with sweet condensed milk.
5
Give it a try and, if not enough sweet, add more condensed milk.
7
Tip:
Like any other coffee drinks, the Thai Iced Latte recipe can be modified following your own taste: decaf coffee if caffeine is not for you, with some syrup like vanilla or caramel for an extra kick of sweetness, and with a shot of liquor (Cointreau, Baileys, Kahlúa or your favorite one) for a fun afternoon!
About the author
Tanya Nanetti
I'm Tanya, originally from Italy but citizen of the world. I'm a specialty coffee barista (based in Portugal, at the moment) and a freelance writer (check out my articles on Barista Magazine!). Plus, I'm half of the team behind Coffee Insurrection, a website about specialty coffee with a focus on the community: I'm co-creator, SMM and content writer. I'm available for coffee consulting (both online and in house) and for writing work.