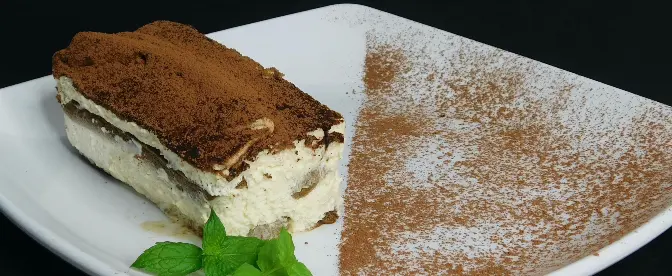 Tiramisu
This quintessential coffee dessert is delicious any time of the year, but especially during the holiday season!
Published December 19, 2021
Looking for a way to impress at your next holiday party? Or simply in the mood for a treat? Give this tiramisu recipe a try! Perhaps the most famous coffee dessert around the world, Tiramisu is an Italian dessert that combines coffee, cream, and sponge cake biscuits. Traditional tiramisu involves using raw eggs too, but since some people avoid raw eggs, this recipe is made without them. Literally meaning "pick me up" or "cheer me up", this decadent dessert is guaranteed to make your day.
Directions
1
Take the heavy whipping cream in a large bowl and start mixing (if you use an electric mixer, whip at medium speed). Slowly add the sugar and vanilla extract while whipping till stiff peaks form.
2
Add the mascarpone cheese to the whipped cream and gently combine.
3
Take the espresso and coffee liqueur in a shallow bowl or plate and dip the ladyfingers in this mixture. Be careful not to soak them, just dip lightly on both sides.
4
Place the ladyfingers in a single layer in a baking dish. Smooth over with the mascarpone cheese and whipped cream.
5
Add a second layer, cover with the whipped cream and mascarpone cheese and repeat this till the dish is full.
6
Dust cocoa powder over the top and place in the refrigerator overnight or for at least 3-4 hours before serving chilled.
About the author
Asharita D'Silva
Join me in discovering the wonderful world of coffee! As a writer, coffee is my fuel and newfound passion. I love writing about new coffees, sustainability, and coffee culture around the world. I'm always discovering new things about coffee and the industry, which I share with the great community here at Era Of We.
Coffee experts
@The Coffee Lab
I need more tiramisu in my life! Thanks for the delicious recipe :)