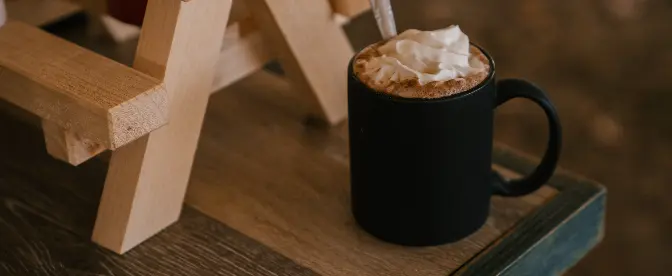 Vanilla Bean Frappuccino Starbucks
Rich and creamy, a homemade vanilla bean Frappuccino is a must-try when it comes to making your own iced coffees. Everyone needs a Starbucks vanilla Frappe recipe in their arsenal for cooling down on a summer day, or as a sweet treat when y
Published November 15, 2021
It's super tasty, simple to make, and with the right ingredients, there's no reason why your homemade frappe shouldn't be just as delicious as your favourite Starbucks vanilla bean recipe. The best thing is, once you've tried this recipe, you'll never have to travel to a coffee house or shell out on your favourite drink ever again. You'll just be able to whip it up at home in a few minutes.
What is a Starbucks Vanilla Frappuccino?
The Starbucks vanilla bean Frappuccino recipe is a simple blend of vanilla bean, milk and ice all topped with whipped cream.
Unlike other coffee house frappes, the vanilla bean frappe recipe doesn't contain any coffee but using vanilla bean means that it's got tons of vanilla flavour. If, however, you need a hit of caffeine, add a shot of espresso, either poured over the top before serving or blended in with the other ingredients.
What Does a Vanilla Frappe Taste Like?
Because a vanilla bean frappe is a cream-based Frappuccino, instead of coffee-based, it tastes a lot like a thick vanilla milkshake, just not quite as sweet. It's the perfect frappe for kids and ideal for teens and preteens who want to try a more grown-up drink without the caffeine hit.
What Do You Need To Make a Vanilla Frappuccino?
You don't need any specialist equipment to make your favourite frappes at home.
A blender with a lid is ideal for crushing the ice quickly and safely. But a stick blender will do.
If you don't have a blender, you can just whisk the ingredients together in a glass of mixing bowl, fill a glass with ice and pour the frappe over the top. If you'd rather not use full cubes, you can place them in a sealed sandwich bag and crush carefully with a rolling pin or shake it all up in a cocktail shaker.
Directions
1
Place the ice cubes in a blender
2
Add the ice cream and whole milk.
3
Blend for 2 minutes until the ice is crushed up and the milk and ice cream are well mixed.
4
Top with whipped cream* and sprinkles**.
*Either from a can or whipping cream whisked into peaks.
**Sprinkles – These are optional but look fun sprinkled on the top, and are especially great if you are sharing your frappe with kids.
If you want a stronger vanilla flavour, you can also add a few drops of vanilla extract, and for a sweeter drink, you can add a little white sugar.
About the author
Daniel Hedlund
Working with the Era of We initiative and loves knowledge sharing and a really good cup of coffee.