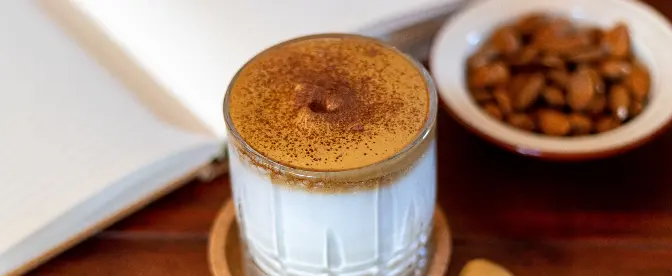 Espresso-based Whipped Coffee
One of the most popular coffee trends in social media during the pandemic was Whipped coffee or Dalgona coffee. This aesthetically-pleasing beverage is made by whipping instant coffee, hot water and sugar together to create this golden brow
Published September 5, 2021
However, in this recipe, we are going to recreate the coffee treat using espresso to make a bolder and more refined flavor.
Directions
1
Pull your 30ml of espresso from your espresso machine. Use 1:2 brew ratio for best quality.
2
Put the espresso into a mixing bowl.
4
Use a hand mixer to whip the inclusions together for 5-10 minutes. You can also use a whisk but the process may take longer.
5
Add ice into your cup enough to fill half of the vessel.
6
Pour milk into the cup until 3/4 full.
7
Scoop out your whipped coffee mixture and transfer it into your cup.
8
Garnish your beverage by sprinkling some cinnamon or chocolate powder.
If you plan to make a large batch of whipped coffee, you can place the extra in an airtight container and store it in the fridge for up to a week. Enjoy your espresso-based whipped coffee!
About the author
Joachim Estal
8-year barista for a world-class coffee chain from the Philippines. Passionate writer and coffee champion. "Coffee has always been one of my biggest love interests in life. And I am here to share it with all of you through this platform."