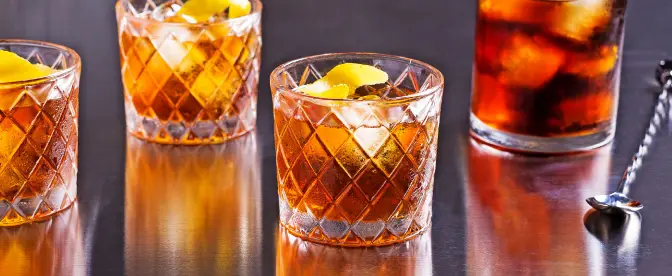 Coffee Old-fashioned
Now this one only the fancy coffee drinkers may know of. We have a thousand different types of coffee drinks in today's world, some with milk, some with chocolate, or even peanut butter. But today, we are going back to the good old time
Published August 29, 2021
It's time to break up with your daily instant coffee drink; let's mix it up a bit. This is a drink for the days when you need a coffee as well as a cocktail. Here's a recipe for your new favourite drink, coffee old-fashioned. With a nice little mix of bourbon and creme de cacao, the flavour notes will dance around on your tongue. And with a bit of touch of orange bitter, we can bet, all you'd want to do is bring out your fancy glasses, cause this drink one deserves it!
Directions
1
Grab yourself a cocktail shaker and pour the bourbon, creme de cacao, water, espresso, sweeteners, bitters, and some ice shaving into the shaker.
3
Pour the mixture into a glass with some ice cubes.
About the author
Shruti Gupta
I like coffee and I like writing, reading, and traveling, all with a cup of coffee in my hand. My recommendation? Brew some coffee (nutty flavors preferred), make it strong, add a little cinnamon and brown sugar, and a touch of soy milk, you've got happiness in a cup! Best served chilled :)